The 2022/23 season runs from October 2022 to April 2023 on the following days:
Friday, October 28, 2022
Friday, November 25, 2022
Friday, December 23, 2022
Friday, January 27, 2023
Friday, February 24, 2023
Friday, March 24, 2023
Friday, April 28, 2023
Make sure you like us on Facebook and sign up for our mailouts on the front page of the website. That way you won't miss a thing.
Remember that there will no parking available in Haynes Street
Walk, Ride or Run instead of driving and parking.
Parking also available at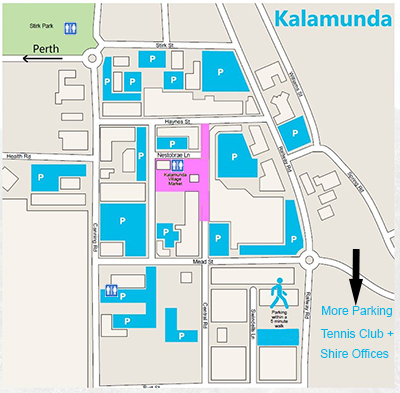 – Church of the Holy Family (Railway Road)
– Tennis Courts (Railway Road)
– Shire Administration Office (Railway Road)
– Stirk Park
Public toilets are also highlighted on the parking map under the FAQ on parking.
There are facilities at the Town Hall Square, behind KADS, at the Bus Station in Mead Street and in Stirk Park
Dogs are allowed at the Kalamunda Night Market. We do request that all dogs must be kept on a short leash and at a respectable distance from food stalls at all times. Owners are responsible for the safe keeping of their animals and must respect other patrons of the event. Pet owners must ensure all droppings are tidied up and removed from the event. If your furry friend doesn't react well with crowds or other pooches it may be safer to leave them at home, as it does get rather dark and they may get trodden on by other market goers.